One-Pole Tent ø 3.50 Meter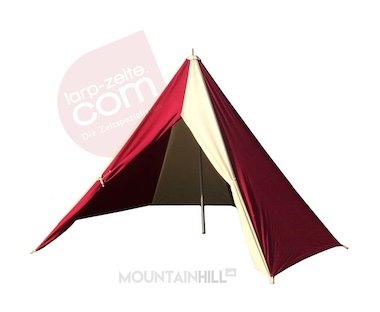 Ideal two man tent
Quick build
Available in various colors
239,90 €
Show me!
Bestseller
Saxon Tent 4x6 meters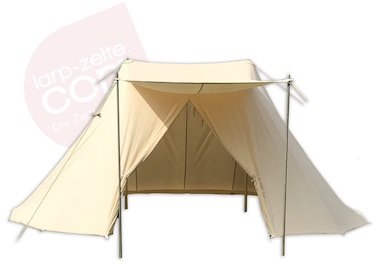 Floor space: 4x6 meters
Incl. poles
Ideal for 3-4 persons
549,00 €
Show me more!
Wedge tent, small - 2 x 2.30
Easy to build
Favorable price
Incl. Poles
199,00 €
Show me!
THE ENTRY INTO THE
LARP WORLD
If you are a newcomer to the LARP adventure, A-tents and wedge tents are a perfect choice - they are affordable and at the same time offer you enough space for your adventure.
Fast shipping
Immediately available tents and products are shipped within 24 hours on weekdays!
SELF COLLECTION POSSIBLE
You can also pick up your new tent at our warehouse in Weiden or Parkstein.
EUROPE-WIDE SHIPPING
We ship not only within Germany, but also to all European countries + Switzerland.
Experience the variety of knight tents for your next
next medieval event!t!
You have your next medieval event just around the corner? Then check out our great selection of tents available for immediate delivery! From practical merchant tents for your next market, to different sizes and color variations in our knight tents - we're sure to have the right one for you!
Out bundle offers
---
Buy a bundle set and save money!

LARP-ZELTE.COM - AUS DER OBERPFALZ FÜR DIE GANZE WELT
Here you will find tents for every kind of live-action role-playing game as well as for medieval markets, historical festivals and other events with that special historical touch. Discover knight tents, wedge tents, camp tarps and many accessories and make your role-playing experience even more authentic.
Medieval tents - from the small A-tent to the canopy
Authentic tents add a lot of flair to a medieval event - as well as correct clothing and historical utensils. Who wants to offer his goods from a modern wagon at a medieval market? With us you will find historical tents for every use - from the small A-tent or wedge tent for sleeping to the large knight's tent or canopy for the smithy or lansquenet tents for the knight's show. With our tents you will experience LARP as authentic as never before: Live Action Role Plays are popular as never before and quite a few take place in a historical or fictional setting of the Middle Ages. No matter if with dragons and wizards or without - with our tents every LARP becomes even more authentic and convincing. Browse our assortment and find historical tents, blankets, tarps and lots of accessories.
Our tents - best quality from our own production
Unlike many medieval stores, we produce directly ourselves and can therefore act without middlemen - so you buy directly from us as a manufacturer! This allows us to offer you your medieval tent at unbeatable prices and without long waiting times. Convince yourself and experience the high-quality workmanship of our articles already at the next event. We live customer service and we offer customer service with heart! Your satisfaction is close to our heart. That's why we want to serve every order as fast and error-free as possible: With us you don't have to wait long for your new medieval tent! If you have any questions, please feel free to use our contact form or our service number at (0961) 3 88 33 53 - 5. We are available Monday to Friday from 10 am - 5 pm.
---
Complete Tents - with poles & pegs
---